Do you know a Blackstone Griddle Lover?? Oh man did I get bite by the Blackstone Griddle bad! With summer almost being here I am outside, even more, using mine alongside my Pellet Grill and electric smoker! My old lady let me know my mom asked for gift ideas for Father day and my birthday, surprise she came up with an amazing list of Blackstone things I know now I NEED not just want. (I have included affiliate links to products I love. As an Amazon Associate, I earn from qualifying purchases.)
Now if you or the man in your life doesn't have a Blackstone Griddle… you need one, just trust me! I have the 17-inch griddle that we got first. The 17 inch goes with us camping, to a friend's house for cookouts, and on the job site as well! Our 36 inch has a permanent home on our back deck and it gets used several times a week.
Blackstone Table Top Grill – 17 Inch Portable Gas Griddle
Blackstone Tabletop Grill – 22 Inch Portable Gas Griddle
Blackstone 28 inch Outdoor Flat Top Gas Grill Griddle Station
Blackstone Station-4-burner-Propane Fueled 36 inch
Must-Have Accessories For Blackstone Griddle:
The Tool Kit is one thing I recommend everyone get alongside their griddle. With the kit, you can start off cooking and cleaning your griddle without any delay! I use water in one bottle and vegetable oil in the other bottle most times. I need to pick up a couple of other bottles to try out some new oil blends with.
Blackstone Griddle Accessory Tool Kit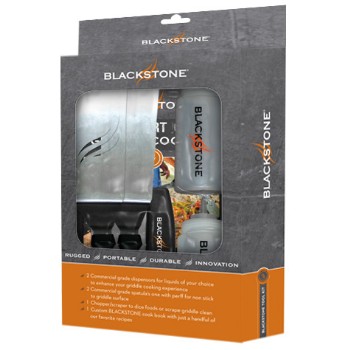 Griddle Tool Kit

Blackstone Griddle Covers:
With the Blackstone Griddle being cast iron protecting the griddle from the outside elements is important! For my 36 inch Blackstone Griddle I use soft covers that are weather-resistant, but I ordered a large dip tray (Like this ->one) to set on top of my griddle before I place it on the cover. This keeps water from pooling on the cover directly on top of the griddle. Amazon has quite a few hardcovers and carrying cases as well -> here.
Blackstone 1528 Heavy Duty Grill Cover, 36″ Griddle
Blackstone Signature Griddle Accessories – 17 Inch Table Top Griddle Carry Bag and Cover
Blackstone 1529 Signature Griddle Accessories – 28 Inch Grill Griddle Cover
Blackstone 1724 Cover, Black Carry Bag 22 Inch
Blackstone Seasoning Bundles:
Now you don't have to use the specific Blackstone blends to use on your Blackstone but they make a great addition to a gift or to have on hand when using the griddle! I plan to pick up the Tequila Lime to try out on Fajitas! Plus you can find them at Walmart -> here as well!
Blackstone Breakfast Blend Seasoning
Blackstone Crazy Cajun Seasoning
Blackstone Steakhouse Seasoning – Net Wt 7.3 Oz
Blackstone Taco and Fajita Seasoning
Blackstone Tequila Lime Seasoning
Blackstone Whiskey Burger Seasoning
Blackstone Teriyaki Seasoning
Blackstone Smashburgers ACCESSORIES:
Now Smashburgers on the Blackstone Griddle is so easy and fun to make! They are a great beginner dinner to start out making on your Blackstone! The dome with the handle makes it so much easier to steam the burger, I used a stainless steel bowl at first but burnt my hand removing it.
Blackstone Signature Griddle Accessories
BS Smash Your Burgers with Blackstone Hamburger Toolkit
Blackstone 5041 Wood Handle Burger Spatula
Blackstone Taco & Fajita Night Accessories:
Now I made Fajitas on the Blackstone, see them -> here, and they were a huge hit! I plan to get the tortilla warmer to use the next time! It was so easy to warm up our shells on the griddle and the flavor from the food carried over to the shell as well. Taco Tuesday is a regular occurrence at my house!
Blackstone 5122 Tortilla Warmer, Black
6 Pack Jumbo Taco Holder Stands
Blackstone Taco and Fajita Seasoning
Do you have a Blackstone? What is your favorite tool to use with it?