Do you know a Blackstone Griddle Lover?? Oh man did I get bitten by the Blackstone Griddle bug bad! Summer is almost here I am outside, even more. I use my outdoor griddle along side my Pellet Grill and gas grill! My old lady let me know my mom asked for gift ideas for Father's day and my birthday, it was no surprise she came up with an amazing list of Blackstone things.
(I have included affiliate links to products I love. As an Amazon Associate, I earn from qualifying purchases.) In addition, this post contains affiliate links that will make me a small commission when used to order online.
Now if you or the man in your life doesn't have a Blackstone Griddle… you need one, just trust me, they make a great gift too! I have the 17-inch griddle that we have had for a long time. The 17-inch griddles go with us camping, to a friend's house for cookouts, and on the job site as well!
Our 36-inch griddle has a permanent home on our back deck to feed the whole family and it gets used several times a week. High quality and the food flavor can't be beaten, it's always a big moment for when someone watches us cook on one for the first time.
Blackstone 17 Inch Griddle
Blackstone 22 Inch Griddle
Blackstone 28 Inch Griddle
Blackstone 36 Inch Griddle
Must-Have Accessories For Blackstone Griddle:
The Blackstone griddle accessories tool kit (grab one-> here) is on kit for the griddle that everyone needs. With the kit, you can start cooking and cleaning your griddle without any delay! I use water in one bottle and vegetable oil in the other bottle most time.
Blackstone Griddle Accessory Tool Kit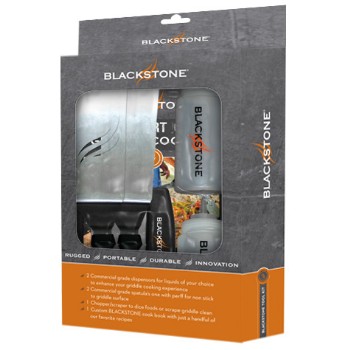 Griddle Tool Kit

There are so many awesome accessories for outdoor cooking and new griddle owner it can be hard to pick one. The accessories are easy to store on the bottom shelf on the 36-inch griddle. (See all the accessories -> here on Amazon)
Blackstone Griddle Covers:
Because the Blackstone Griddle is cast iron being able to protect the griddle from the outside elements is important! For my 36-inch Blackstone Griddle, I use soft covers that are weather-resistant, but I ordered a large dip tray (Like this ->one) to set on top of my griddle before I place it on the cover. This keeps water from pooling on the cover directly on top of the griddle. Amazon has quite a few hardcovers and carrying cases as well -> here. Covers are one of those Blackstone accessories that are a great way to protect the griddle.
Blackstone 36 Inch Cover
Blackstone 28 Inch Cover
Blackstone 22 Inch Cover
Blackstone 17 Inch Cover
Blackstone Seasoning Bundles:
Now you don't have to use the specific Blackstone blends to use on your Blackstone but they make a great addition to a gift or to have on hand when using the griddle! I plan to pick up the Tequila Lime to try out on Fajitas! Plus you can find them at Walmart -> here as well!
Blackstone Breakfast Blend Seasoning
Blackstone Crazy Cajun Seasoning
Steakhouse Seasoning – Net Wt 7.3 Oz
Blackstone Taco and Fajita Seasoning
Blackstone Tequila Lime Seasoning
Whiskey Burger Seasoning
Blackstone Teriyaki Seasoning
Smashburgers ACCESSORIES:
Now Smashburgers on the Blackstone Griddle is so easy and fun to make! They are a great beginner dinner to start out making on your Blackstone! The dome with the handle makes it so much easier to steam the burger, I used a stainless steel bowl at first but burnt my hand removing it.
Blackstone Signature Griddle Accessories
BS Smash Your Burgers with Blackstone Hamburger Toolkit
Blackstone 5041 Wood Handle Burger Spatula
Blackstone Taco & Fajita Night Accessories:
Now I made Fajitas on the Blackstone, see them -> here, and they were a huge hit! I plan to get the tortilla warmer to use the next time! It was so easy to warm up our shells on the griddle and the flavor from the food carried over to the shell as well. Taco Tuesday is a regular occurrence at my house! You can see Blackstone Taco Accessories on Amazon -> here. The taco warmers look amazing!
Do you have a Blackstone? What is your favorite tool to use with it?
Amazing Blackstone Recipes
From Fajitas to Fried Rice and Breakfast, there isn't much you can't cook on a Blackstone. I love to use mine to make family dinners and use my leftover smoked foods in new recipes!
Check out my must-have Blackstone Griddle accessories -> HERE!