Let me just say that Blackstone Griddle Accessories can really take your Blackstone Grill experience to the next level. Now, these aren't needed to have a Blackstone Griddle but they can make life a lot easier. (I have included affiliate links to products I love. As an Amazon Associate, I earn from qualifying purchases.)
Now if you are unfamiliar with Blackstone Griddles let me start out by saying there are four standard sizes. I personally have the 17-inch and 36-inch griddles. The 17 inch was the first one I had and I still use it for camping and on the job site grilling. The 36 now has a permanent home on my back deck and gets used multiple times a week.
Blackstone Table Top Grill – 17 Inch Portable Gas Griddle
Blackstone Tabletop Grill – 22 Inch Portable Gas Griddle
Blackstone 28 inch Outdoor Flat Top Gas Grill Griddle Station
Blackstone Station-4-burner-Propane Fueled 36 inch
Blackstone Accessories Amazon:
Now you don't need to run out and get this but I do have to say this Blackstone Accessory kit makes using the Blackstone a lot easier! You will want to have a metal spatula to use when cooking no matter what. I love how the Blackstone Griddle Accessory Tool Kit makes cooking easier! I used the stainless steel chopper/scraper to clean my griddle every time and having two spatulas is amazing when one drops on the ground.
Blackstone Griddle Accessory Tool Kit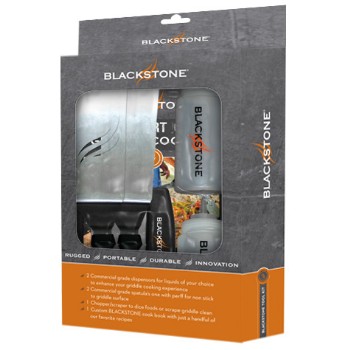 Griddle Tool Kit

The breakfast Blackstone Griddle Accessory is a great one to have especially if you have kids that are obsessed with pancakes. I have had mine for a couple of months and love how easy it is for making pancakes. The bacon press is great for cooking the bacon on the griddle. Just let it warm up on the griddle then press the bacon to help cook evenly! I personally did not care for the egg ring as I fry my eggs in my bacon grease but that's a personal preference.
Blackstone 4-Piece Griddle Breakfast Kit
Blackstone Breakfast Blend Seasoning
Blackstone Griddle Basting Cover:
This is on my list, I have used a bowl with the same effect and the burgers were amazing. The handle would make it much easier to remove from the Blackstone than the bowl I had used. Whatever you use as a bowl make sure that is stainless steel so it doesn't melt.
Blackstone 5113 Silicone(Parchment Paper) Hamburger Sheets, White
Blackstone Signature Griddle Accessories – 12 Inch Round Basting Cover
LEM Non-Stick Adjustable Burger Press
Blackstone Griddle Covers:
Now for my 36 inch Blackstone Griddle with living in Washington, it is always raining it seems like. Blackstone makes soft covers that are weather resistant. However, with how much rain we get I ordered a large dip tray (Like this ->one) to set on top of my griddle before I place it on the cover. It is important to protect your Blackstone from the elements to prevent rust.
Blackstone 1528 Heavy Duty Grill Cover, 36″ Griddle
Blackstone Signature Griddle Accessories – 17 Inch Table Top Griddle Carry Bag and Cover
Blackstone 1529 Signature Griddle Accessories – 28 Inch Grill Griddle Cover
Blackstone 1724 Cover, Black Carry Bag 22 Inch
If you want there are also hardcovers options as well! I have not used a hardcover one personally on my griddles. I have seen feedback from other Blackstone users they work pretty well! It's another great way to protect your purchase.
Blackstone 5004 Griddle Grill 36″ Hard Cover, 36 Inch, Black
Blackstone 5011 22″ Table Top Griddle Hood, Black
Blackstone 5010 Signature Accessories-17 Griddle Hood,
I love that Blackstone is always coming out with new accessories to improve the griddle experience! I am eyeing some of the table options for the 36 inch! Currently, I battle with having space to hold plates and seasonings while using the griddle.
Blackstone Signature Accessories – 36 Inch Griddle Surround Table
Blackstone Signature Griddle Accessories – 36 Inch Grill Top Accessory for 36 Inch Griddle
Blackstone 5036 Signature Griddle Accessories Grill Splatter Mat
Blackstone Griddle Walmart Exclusives:
Walmart has some Walmart exclusive Blackstone Griddles available! One that I have been eyeing has the Air Fryer on the griddle itself. I talk about taking all the cooking outside! You can see all of Walmart's Blackstone Griddle Accessories -> here.
Blackstone Griddle Accessories at Walmart:
Not only does Walmart have exclusive Blackstone Griddle they also have exclusive Blackstone Accessories! I plan to get the Pancake Art Kit to try out!! You can see all of their accessories -> here some of the prices are just as good as Amazon as well!!
Do you have a Blackstone Griddle? What accessories do you use with yours? '