My Grilling Seasonings are some of my favorite things about grilling. You can take any cut of meat, no matter the cost, and turn it into a fantastic dinner right at home. Currently, I am at the point now in my cooking journey. Over the years, there have been very few dishes I order eating out because I make it so much better at home.
(I have included affiliate links to products I love. As an Amazon Associate, I earn from qualifying purchases.) In addition, this post contains affiliate links that will make me a small commission when used to order online.
Now, as well as being a grill master, I also love to kitchen cook. Whether it is cooking in the kitchen or an outdoor kitchen, five spices/seasonings will make a massive difference in any food being made!! These are five spices that I even take camping and always take when traveling on the road for work to cook with on job sites. Now they can seem basic, but they are some of the best grilling spices.
Make Your Backyard Barbecue Sauce | BBQ DIY Kit | Kitchen Chemistry
Barbecue Sauces, Rubs, and Marinades–Bastes, Butters & Glazes, Too
Spice Mix Recipes: Top 50 Most Delicious Dry Spice Mixes [A Seasoning Cookbook]
I have used every spice, seasoning, grilling spice, or blend in this post in my kitchen, my mom's, or my friend's. Don't be afraid to experiment and try new things. Sometimes you will find a new favorite to rotate with another seasoning. And there's nothing like making a list to realize how much of a seasoning problem you have!
everyday grilling spices:
Rub your meat with some oil (Olive Oil, Sesame Oil, or Avocado Oil are my go-to oils for seasoning any meat), then season lightly with a combination of these five. It's my everyday grilling seasoning and never fails me. The salt in these will help to tenderize the meat. Also, be sure to let your meat sit to acclimate to room temperature before putting it on the grill.
Trader Joe's Gourmet Grinder Set: Rainbow Peppercorns/Pink Himalayan Salt Crystals
McCormick Montreal Steak Seasoning, 29-Ounce Units (Pack of 2)
Johnny's, Seasoning Salt, 16oz Bottle (Pack of 2)
Lawry's Coarse Ground Garlic Salt With Parsley, 33 oz
McCormick Grill Mates Seasonings:
Now Montreal Steak seasoning is used on all the meat I cook, but some blends are perfect. Chicken is one of those that I love the chicken blends. Also, it is nice sometimes to pull one bottle out, oil your meat, and throw it on the grill. (Or easy to tell your partner or kid who isn't quite a grilling master to use to make for dinner)
Variety Pack (Chipotle & Roasted Garlic, Mesquite, Spicy Montreal Steak, Smokehouse Maple), 4 Count
McCormick Grill Mates Special 12 VARIETY #2 (Marinades, Seasoning Mix & Rubs) (Variety #1)
Everyday Grilling Variety Pack (Montreal Steak, Montreal Chicken, Roasted Garlic & Herb, Hamburger), 4 Count
McCormick Blends As Grilling Seasonings:
I use these grilling seasonings in the kitchen quite a bit, but I will also use these spices for grilling season meat or for a dish, I am cooking on the grigrilling seasoningsll. My mom got me hooked on these. I mainly love that it saves me from thinking when making a rub or seasoning blend.
My Go-To Chicken Grilling Seasonings:
We eat chicken typically once or twice a week. One would think that you would get bored, but changing up the seasoning makes it to that we don't get tired of it and helps to pair it up with new side items as well!
If you prefer, you can order the Spiceology Spices direct from them in the PNW -> here on their website. The Sasquatch line is fantastic as well.
Jack Daniels Seasoning Rub Chicken, 6 oz
Smoky Honey Habanero – Sweet and Spicy BBQ Rub
McCormick Grill Mates Montreal Chicken Seasoning,
Seafood Grilling Seasonings:
Shrimp and cod are my most grilled seafood, I would say crab legs, but we love to eat those without cooking or seasoning. Seafood doesn't need much seasoning to bring out the flavor at all. Good Old Bay is almost always the seasoning I use, even on Bass we catch while fishing!
Old Bay Seasoning, For Seafood, Poultry, Salads, and Meats, 2.62 Oz
Pike Place Seafood Market, Seasoning Seafood, 4.3 Ounce
Beef Grilling Seasonings
I will be honest when it comes to steaks, I usually do my five-go seasonings on it. Burgers are one thing that Ido change up the spices on, but the Blackstone Whiskey Burger seasoning has been my favorite in the past few months for burgers.
Kinders Premium Quality Seasoning
Ultimate Barbecue Spices, Gourmet Flavor Seasoning Bundle
Blackstone Seasonings:
Now I am just discovering the Blackstone Seasonings. The Whiskey Burger has become my go-to any time I make any burger either on the Blackstone, Grill, or Pitboss. Now if you are new to Blackstone Griddles I recommend you check out my -> How To Care For Your Blackstone and Blackstone Accessories post -> here. I love cooking on my Blackstone and the meals always turn out amazing!
Blackstone Whiskey Burger Rub
Badia Taco Seasoning, 21 Ounce
Blackstone Breakfast Blend Seasoning
Pork Grilling Seasonings:
Pork Roast, Pork Chops, Pork Steak, I mean any cut of pork can make a tasty meal! The family's favorite is Spade L on our pork chops. A dry rub before smoking also adds to the flavor and tenderness of the meat as well.
Spade L Ranch, Variety Pack, Marinade and Seasoning 6 Oz. (1)
Bad Byron's Butt Rub Barbeque Seasoning BBQ Rubs (26 Oz)
Stubb's Pork Rub, 5.07 Ounce
Burlap and Barrel Grilling line
Are you a Shark Tank fan?? If you saw Burlap And Barrel, then you know how unique their story is; they work closely with small farmers to make their spices and seasonings! You can learn more about them -> here!
The 4 Spice Grilling Collection– This pack has four spices collection, including; Noble Sweet Paprika, Köfte Baharat, Toasted Onion Powder, and Zanzibar Black Peppercorns, which comes as a grinder.
The 7-spice collection-This pack includes the spices in the four-pack plus Purple Stripe Garlic, Sun-Dried Tomato Powder, and Ground Black Lime. And they also include a set of their woven kitchen towels!
7 Piece Burlap And Barrel Grilling Collection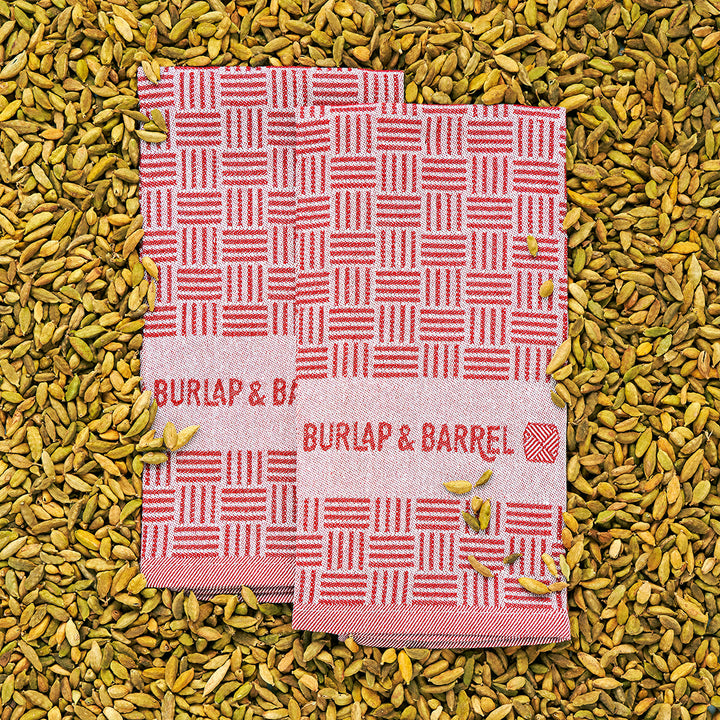 Burlap And Barrel Woven Towels

4 Piece Burlap And Barrel Grilling Collection

What is your go-to Grilling Seasoning?
Amazing Grilling Recipes to Check out
Using your grill to make dinner is perfect for any weeknight dinner or weekend cookout! Easy Grilling Recipes are my go-to; some of my family's favorites are below.